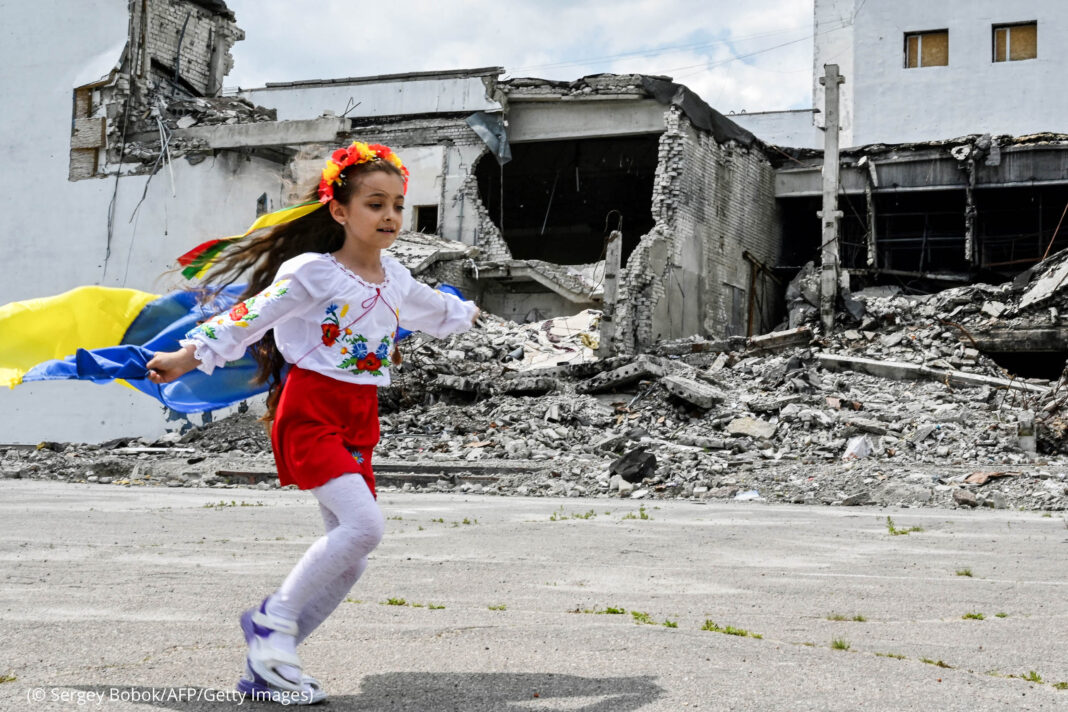 Maria, a 13-year-old from Irpin, Ukraine, who attends seventh grade, stays home from school when bombing threatens the area.
While the daily routine changed dramatically for Maria, the United Nations and the European Union helped to rebuild her school and provide some security against attacks.
"Sometimes, I thought that my school would be closed forever, but now I'm proud to see it beautiful and comfortable," she said.
Some students return to rebuilt schools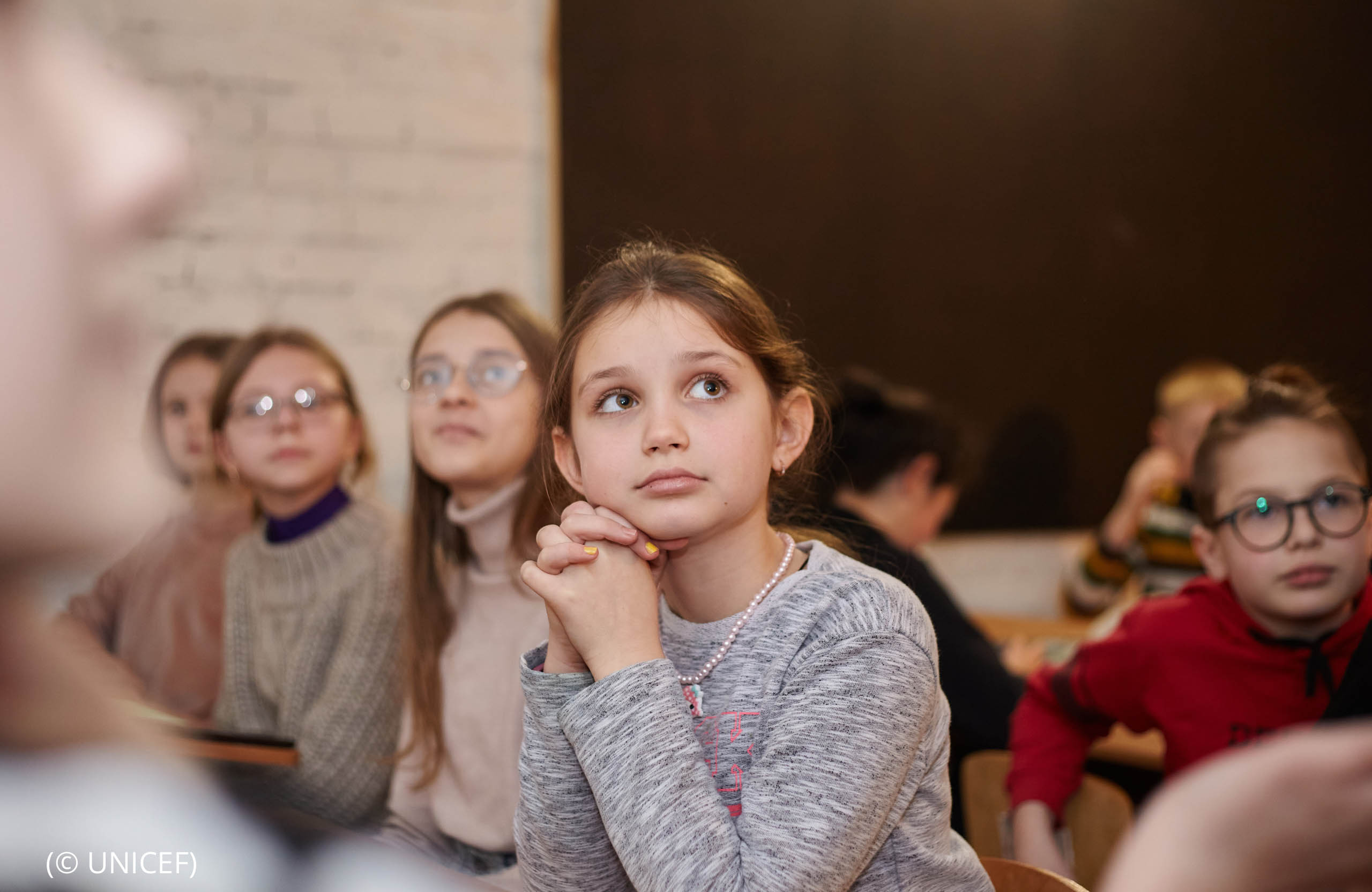 Approximately 5.3 million Ukrainian children face barriers to education, including about 3.6 million directly affected by school closures, according to UNICEF.
U.N. agencies, Europe and U.S. institutions are working with Ukraine to rebuild schools so students like Maria can return to in-person learning. UNICEF built shelters inside schools throughout Ukraine and provided students with tablets and laptops so they can continue their education.
Today the shelter at Maria's school has tables, games and heating.
The United States is the largest donor to UNICEF.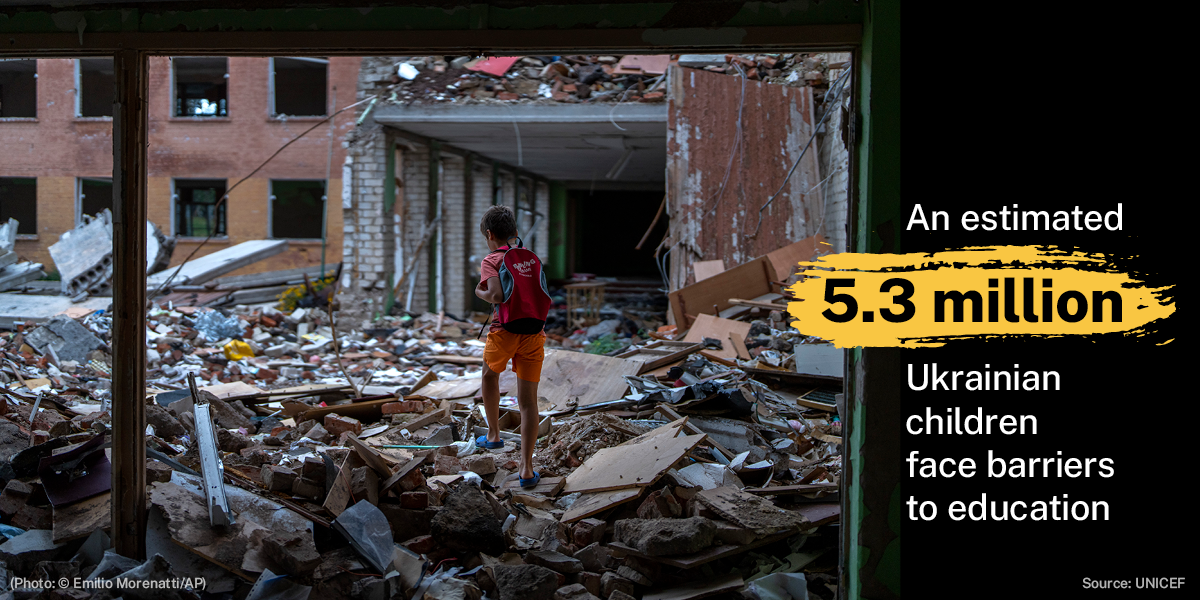 Global support aids local schools
Save the Children, a U.S.-based charity, estimates that more than 3,300 academic institutions have been damaged or destroyed since the start of Russia's unprovoked February 2022 invasion.
Worldwide efforts are underway to repair those schools and make them safe for in-person learning.
For example, UNESCO, the U.S.-based Global Partnership for Education, Google and Microsoft collectively will provide more than $51 million for distance learning and psychological support for children. As part of the effort, Google donated 50,000 Chromebooks and Microsoft offered free access to its software for teachers and students. The program will benefit 6,800 children.
The U.S. Agency for International Development has helped:
Pay the salaries of more than 618,000 teachers.
Facilitate the donation of laptops.
Support the Save Ukraine Children's Center in Kyiv to expand displaced children's access to education.
Germany contributed 5 million Euros to help rebuild 12 schools.
UNICEF provided kits that include items ranging from puzzles to coloring pencils to soap to 700,000 children.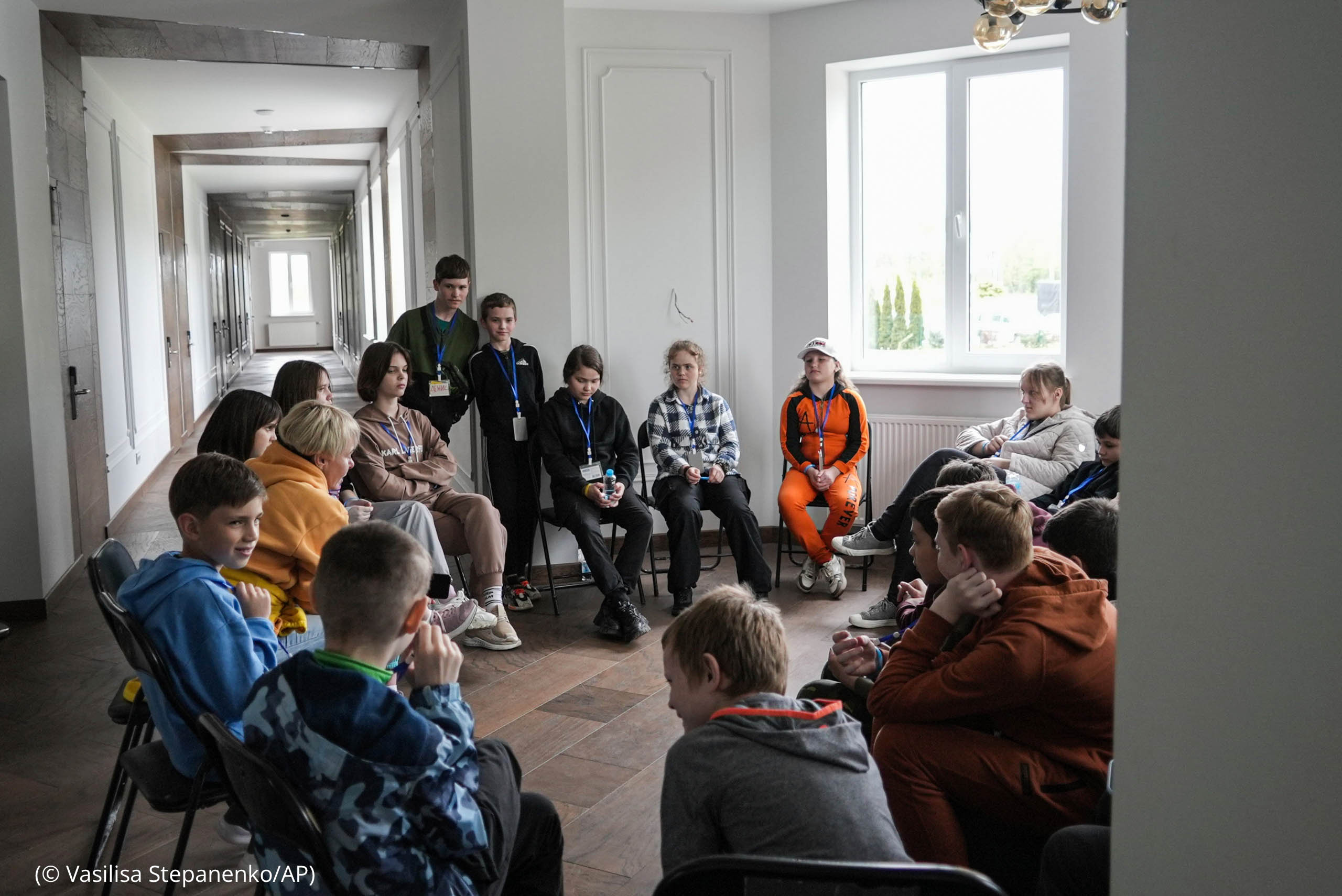 Schools provide help beyond classwork
Students across Ukraine are dealing with war-related trauma. Many report difficulty with sleeping, have feelings of anxiety or demonstrate aggressive behavior. Psychologists often use art and music therapy in sessions with students.
UNESCO, Ukraine's Ministry of Education and Japan are working with Ukraine's 15,000 school psychologists to provide training.
"Children in Ukraine have had to become adults too quickly," says Olena Kravchenko, a school psychologist at Lyceum Collegium in the Luhansk region.
Save the Children created a digital learning center inside a former government building in Kyiv. There, elementary students can take class and obtain psychological support.
Some students don't return at all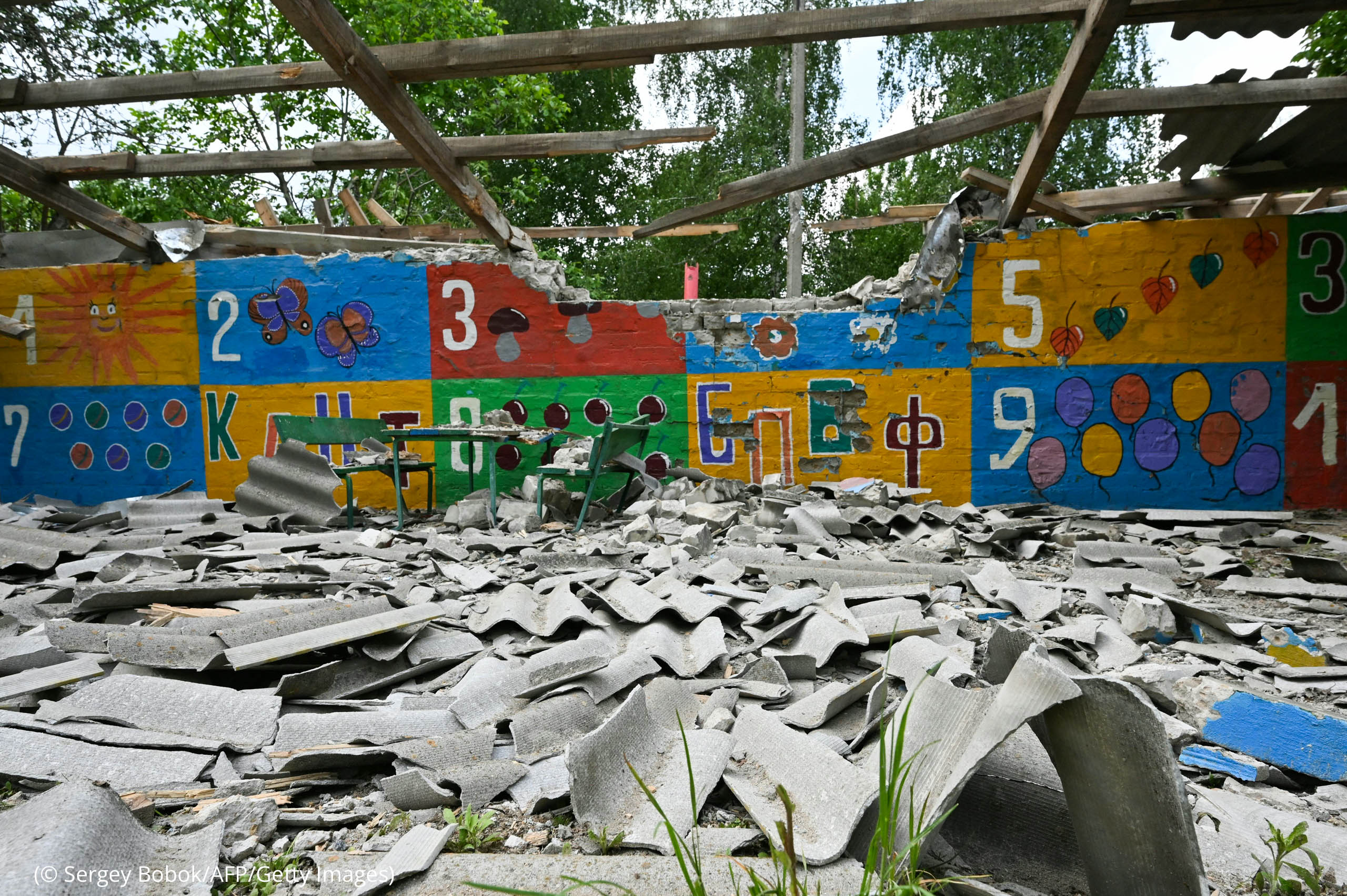 Thousands of Ukraine's children cannot return to their neighborhood schools.
Russia's bombardments forced 5.9 million people to flee to neighboring countries. An estimated 173,000 refugee children from Ukraine are enrolled in Poland's schools. Another 50,000 attend schools inside the Czech Republic.
Russia also has forcibly separated thousands of Ukraine's children from their families, guardians and caregivers and transferred them to facilities where they are exposed to a Russia revisionist curriculum. Some are transferred to facilities deep inside Russia, others are put up for adoption to Russian parents. The status of thousands of children is unknown.
The Ukrainian government has estimated that 19,000 children have been illegally taken from their families and taken to Russia. Of that total, only about 360 have returned, The Guardian reported. Many of them are school-age.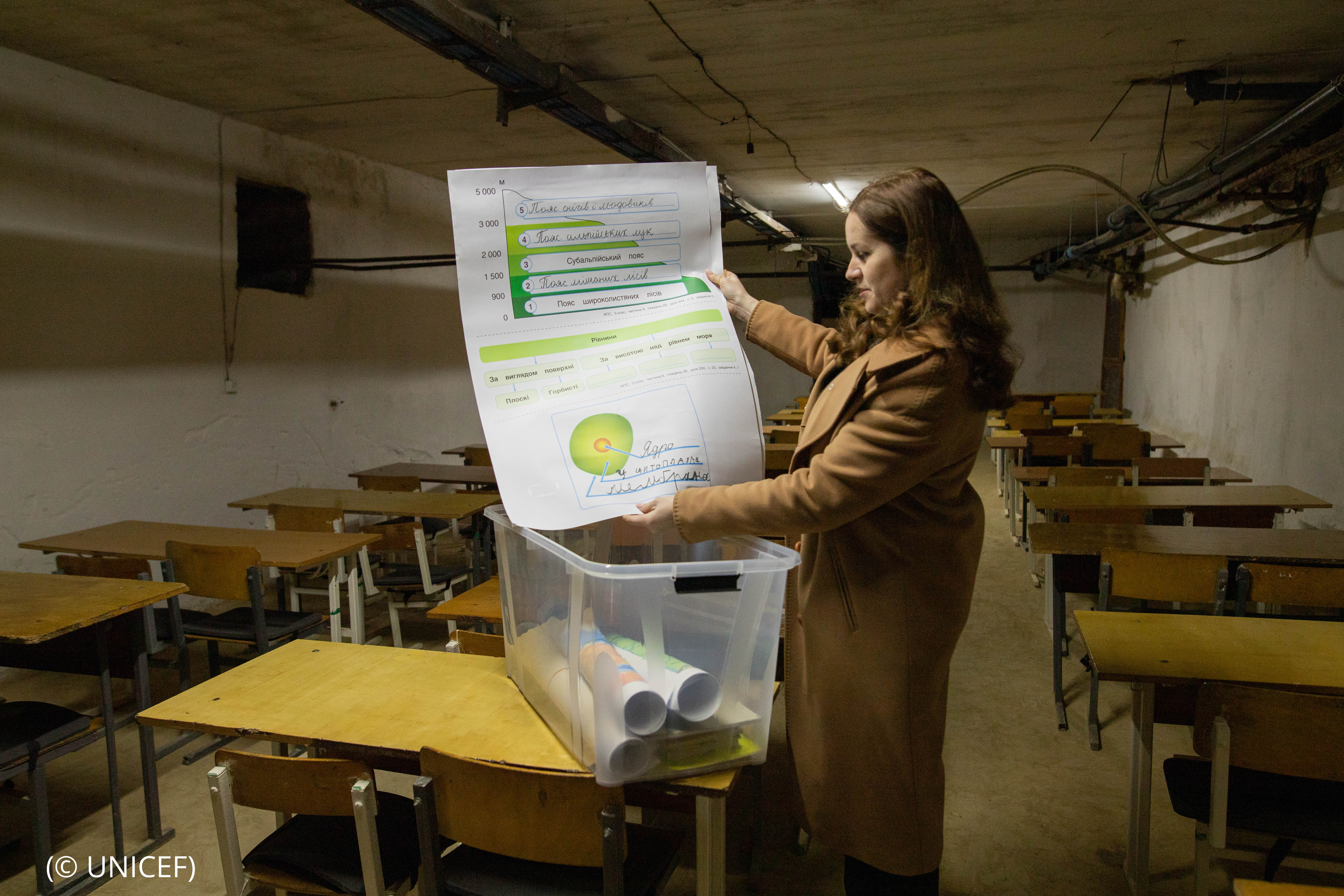 Ukrainians resolved to go on
Despite the hardships, Ukrainians are determined to rebuild their country and lead normal lives as much as possible.
Earlier this year in Sumy, Ukraine, Andriy and Vladyslava practiced the waltz for their school prom as the sound of air raids competed for their attention. Despite the war's pressures, education officials at Sumy School No. 24 wanted to schedule the prom and graduation.
"We decided that we had to hold a graduation ceremony," Andriy said. "To remind ourselves and our teachers that life still goes on. And such an event happens only once in a lifetime."