ARM Holdings and Sensormotoric Instruments (SMI) are teaming up at GDC to showcase the potential of powerful mobile GPUs, eye-tracking and foveated rendering technologies in a new made-for-VR demo that will debut at GDC next week.
ARM, one of the world's leaders in microelectronic design and the company behind the enormously successful Cortex mobile CPUs and Mali GPU, is partnering with eye tracking specialist SMI at San Francisco's Game Developer Conference this year to demonstrate how mobile rendering when partnered with techniques like foveated rendering can deliver high fidelity VR experiences.

ARM claims that its Mali line of mobile GPUs shipped over 750 million units in 2015 with its latest G71 series being pitched as sporting the grunt required to meet the high demands VR places on rendering hardware. The G71 has been rumoured to feature in Samsung's latest smartphone, the Galaxy S8, details of which we may learn more at next week's Mobile World Congress event in Barcelona.
At GDC however, SMI and ARM will join forces to demonstrate what current generation hardware can achieve when foveated rendering – a technique that optimises the level of level of detail in a VR scene rendered based on a user's gaze, freeing up clock cycles for rendering more detail or a smoother frame rate (or both).
The new demo, on display at SMI's booth (1924) at GDC next week, will be shown on a Samsung Galaxy S7 equipped Gear VR with SMI's retrofitted eye-tracking technology. According to a press release from SMI, the new demo will "teleport the user into the heart of a smartphone, exploring the inside – from chip to camera to speakers – from an entirely new perspective, guided by a friendly robot companion."
"Eye tracking technology will bring yet another level of sharpness and detail to untethered VR worlds," said Pablo Fraile, director of ecosystems, mobile compute, ARM. "Our demonstration of SMI mobile eye tracking technology on ARM-based devices highlights how foveated rendering will increase the efficiency of mobile VR experiences without compromising frame rates or visual quality."
SMI have been extremely aggressive in positioning themselves as the front runner in eye tracking technology for the VR space. Although gaze detection data and input didn't make its way into this generation of consumer VR headsets, it's expected that the technology holds the key to allowing systems to cope with the demands of higher resolution, next gen headsets. We've been impressed in the past with SMI's demos, spending time with both an SMI modded Oculus Rift DK2 and a Samsung Gear VR. The company claims to have delivered over 10 eye tracking solutions in the VR space to date.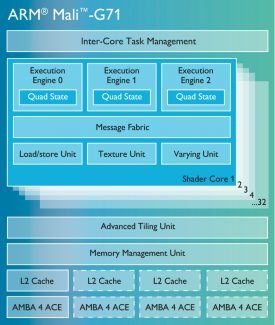 As for ARM, its messaging on virtual reality has been less forthright, but with the announcement of the Mali G71 and Cortex A73 products at Computex last year, this changed. The new Mali GPU ARM claims "was developed expressly to meet the needs of new industry advancements such as the Vulkan cross-platform graphics API from Khronos as well as the ever growing demand for a smooth mobile VR experience." And if the rumours of its inclusion in Samsung's flagship Galaxy smartphones are true, it will have ample opportunity to prove its mettle powering Gear VR applications.
Road to VR will be at GDC 2017 next week bringing you news on this and everything else VR at the show.