Industry Direct by Varjo

Industry Direct is our program for sponsors who want to speak directly to the Road to VR newsletter audience. Industry Direct posts are written by sponsors with no involvement from the Road to VR editorial team. Links to these posts appear only in our newsletter and do not intermix with our on-site editorial feed. Industry Direct sponsors help make Road to VR possible.
Augmented World Expo (AWE) showcases the best of the best in augmented, virtual, and mixed reality with their esteemed Auggie Awards. Last year, Varjo took home the 'Best Headworn Device' award with the Varjo Aero headset, and this spring, Varjo XR-3 Focal Edition is one of the finalists in the same category.
To celebrate the nomination for Best Headworn Device, we've also launched a special spring promotion available to all Road to VR readers. People who order a Varjo Aero headset online before May 24 now get $300 off the price.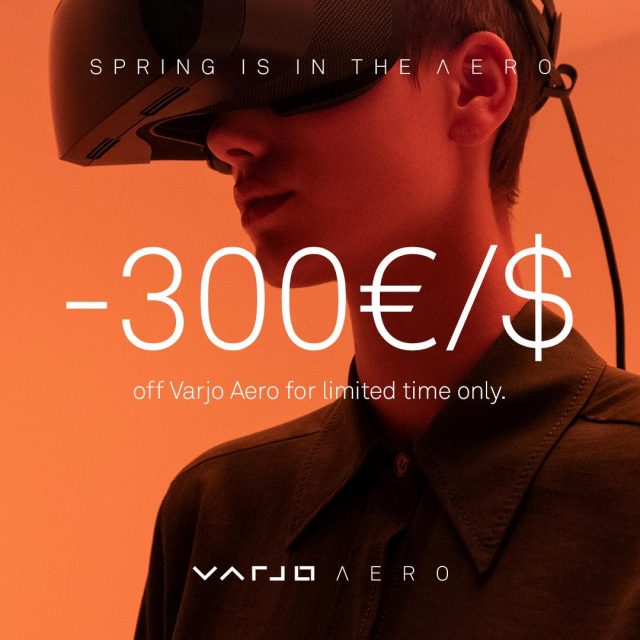 If you're hesitant about whether the Varjo Aero is the right choice for you, we've collected some of the industry feedback below on why it's one of the best VR headsets out there.
Why People Love Varjo Aero
Varjo Aero has made waves among professionals and advanced VR users, especially VR pilots and racing drivers. The ultra-high visual clarity of up to 35 pixels per-degree is an eye opening-experience, showing the true potential of VR for gamers and professionals. With dual mini-LED displays, crystal-clear aspheric lenses, and a 115° field-of-view for stunning edge-to-edge clarity, the device offers a massive step up in visual fidelity over consumer-grade virtual reality headsets.
A review of Varjo Aero by Pie in the Sky Tours, a flight sim YouTuber
Varjo Aero offers a generational leap in visual fidelity. The headset has received rave reviews from tech media and VR enthusiasts alike. As Pocketlint stated after testing Aero with experiences like Half-Life: Alyx, "if you want the very best VR experiences then you need a headset like this."
With a future-proofed optical design, stunning dual mini-LED displays, and automatic interpupillary adjustment powered by built-in eye tracking, Varjo Aero is the lightest & brightest professional-grade headset ever made. The visual clarity and comfort of Aero ensure VR users can enjoy excellent immersion—even for hours on end.
As mentioned by VR Flight Sim Guy, a flight sim YouTuber who has used Varjo Aero for more than 1,000 hours, in one of his videos, "literally, for a moment, I actually thought I was there—I think I was in some sort of flow state with VR, and the aircraft, and the headset, and I just felt like I was there—I was just in disbelief. I have never had that moment in any other headset before."
Varjo Aero Feature Highlights
Varjo Aero has several best-in-class features that make it an excellent choice for all demanding VR users. Here are just a few key characteristics that make Varjo Aero one of the best VR headsets you can buy.
Dual mini-LED displays with 35 PPD peak fidelity, 150 nits of brightness, and a 115° field-of-view for stunning edge-to-edge clarity.
Crystal-clear, variable resolution, aspheric lenses offering a massive step-up in visual fidelity over consumer-grade Fresnel optics.
Automatic IPD adjustment and ultra-fast, built-in eye-tracking at 200 Hz for a tailored, optimal experience to every user, every time.
Premium lightweight comfort with a 3-point precision fit headband, active cooling, and optimized ergonomics for long-duration usage.
Full access to Varjo Base software updates, including a high-definition virtual desktop with Varjo Workspace, as well as premium Varjo support.
Read more about our limited-time discount offer here – only available until May 24.

Varjo Aero is the Headset of Choice for Even the Most Demanding VR Users
Sim racing is one of the most demanding applications for a VR headset as it requires excellent visual clarity and performance from the device. Varjo partners with several players in the sim racing industry.
For example, we are an official VR Partner of Alpine who uses Varjo Aero headsets to offer immersive experiences to fans and drivers. We also partner with several leading sim racing equipment providers such as Next Level Racing and Simucube.
Dare to race to the finish line? Claim our spring offer now to upgrade your sim racing setup with Varjo Aero.
Explore the Future of Mixed and Virtual Reality at AWE 2023
If you're attending AWE 2023, you'll also have a chance to attend a keynote by Varjo and NVIDIA where we explore real-time ray tracing, the holy grail of 3D visualization. This technological breakthrough will make mixed reality experiences look and feel even more real than ever before. While aimed at business users, this is a great panel to watch if you want to see what the future beholds for advanced XR visualization.
Don't forget, if you want to get $300 off the price of Varjo Aero, order yours by May 24. Visit the campaign page to learn more.
,