Location-based VR has bounced back since the pandemic. So let's get some arcade action! The fastest-growing company, Sandbox VR, has just opened their 40th location worldwide. Gibby's Guide went out and about to road test the best that the sector has to offer.
Gibby Presents

Gibby Zobel is an English-born journalist, filmmaker and radio broadcaster. Based in Brazil for over 20 years, he produces content for the BBC World Service, BBC News and China Global Television Network (CGTN). Currently on sabbatical in the UK, he writes and publishes Gibby's Guide, a free independent VR digital magazine, launched in 2021.

As fans of Gibby's work, we share a selection of the magazine's feature articles, this one from the latest issue: Gibby's Guide V23.
"I wanted an immersive experience with my friends, where they could reach out and touch each other and actually make a physical connection. I believed that the real magic of VR would begin when someone could totally lose themselves in the immersive experience. The game, the interface, the disbelief would all fall away and only Experience would be left."
Steve Zhao, co-founder and CEO of Sandbox VR, outlined his vision of a 'minimum viable matrix'. Then he built it.
WHAT IS LBVR?

Location-based Virtual Reality or LBVR refers to an out-of-home location where people can play unique VR games, usually as a team, that they can't find on consumer headsets. Haptic vests and physical items like a gun can add to the experience, as can extras like fans, heaters, water spray and hydraulics. Games are purpose built in-house or by studios like Ubisoft.
It began with the opening of their first arena in June 2017 on the 16th floor of a back alley high rise in Hong Kong with leaky pipes, surrounded by private members clubs and other less salubrious neighbours.
Exactly six years later a premium location in downtown Seattle has just become Sandbox VR's 40th location worldwide—they are present across the US, Europe and Asia—and they are the fastest growing company in the sector.
But it very nearly didn't happen. Covid-19 threatened to strangle the fledgling LBVR industry at birth. The major player at the time, The Void, sank without trace. Some survived. A case in point is Zhao's Sandbox VR. He relates the story on his Medium page.
"With a nationwide lockdown and all our retail locations mandated to close, our revenue plummeted by 100%. The year was traumatising for the team and myself: running a near-death startup during the worst crisis possible while undergoing an emotionally taxing bankruptcy process, with the team barely getting paid at all," he says.
But through a drastic 80% staff cut, rent freezes, and financial contortions they pulled through.
Last month they launched their seventh LBVR title built in-house, Seekers of The Shard: Dragonfire, and have announced a deal with Netflix to bring Squid Game to VR later this year following on from a deal with CBS to make Star Trek Discovery.
While Sandbox VR is undoubtedly the shining beacon, selling upwards of 100,000 tickets a month, other LBVR companies are making headway.
Czech start-up Divr Labs is backed by billionaire Daniel Kretinsky—known for his investment in West Ham United Football Club—and has opened in a prime location in West London inside Westfield, Europe's largest shopping centre, in addition to venues in Stockholm and Prague.
Clever design means that Divr Labs can accommodate 48 people an hour inside its 150 square metre space. At full capacity that would equate to an income north of $4M a year in just that one retail area.
London's first VR arcade, DNA VR, has expanded to three venues in the capital and one in Manchester while another UK venture, Meetspace VR has seven arcades across the country.
In the Guandong Province in China, the Lionsgate Entertainment World, which opened in July 2019, is the most technologically advanced theme park on the planet. It leverages popular film franchises like The Hunger Games and The Twilight Saga to create VR experiences including an indoor VR rollercoaster and motorbike sim.
SEE ALSO
Roblox Comes to Quest, Casting a Shadow on Meta's Own Social VR Platform
ILMxLAB (now ILM Immersive) similarly held a limited run of Star Wars Tales From The Galaxy's Edge at Disney World Orlando in 2022.
Back in London, Layered Reality also borrows from popular culture creating a two-hour spectacular with Jeff Wayne's War Of The Worlds Immersive Experience.
Now in its fourth year, it takes place in a huge purpose-built set. It's voted the number one immersive experience in the capital on Trip Advisor and has surpassed 175,000 customers.
But what are these experiences like? Do they justify the the hype?
Sometimes LBVR can be a terrible disappointment; recent examples include efforts at high profile arts centres like the Serpentine Galleries and Barbican Centre, which can be fatal to public interest, especially if it is their first time in a headset.
They also have to hold up against competing entertainment options. Traditional arcades have had a renaissance and retro places like NQ64, Arcade Club, and Pixel Bar are popular.
Then there's the emerging trend of projection mapping with motion tracking.
Immersive Gamebox offers their non-VR version of Squid Game, Ghostbusters, and Angry Birds while Chaos Karts promises "an augmented reality experience without the need for headsets" on their illuminated race tracks.
An LBVR Road Trip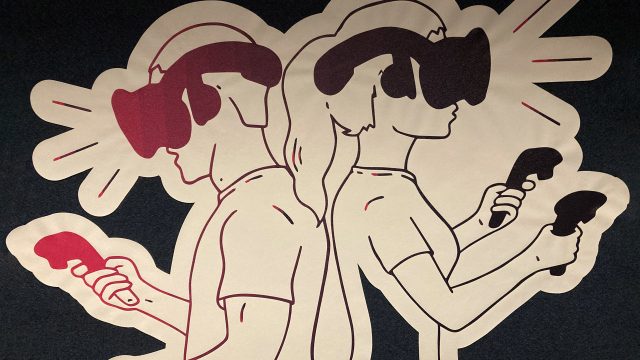 Gibby's Guide—that's me and a bunch of mates—set out to take the temperature of the industry, travelling to five different locations in the UK.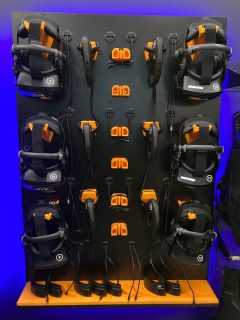 All of us had some level of experience playing with Quest 2 at home but none had been to a LBVR attraction.
Clearly this sample is geographically specific but some, like Sandbox VR, can be also found across the US and worldwide and many of the details are common to others.
None of the LBVR venues we visited used Quest 2; various iterations of the HTC Vive (usually the Focus 3) or PiMAX were the headsets of choice at the venues.
Prices varied between the equivalent of $40–$75 per person, and lasted between 25 minutes and two hours. The minimum age requirement began at 7 and went up to 16 depending on the game.
Sandbox VR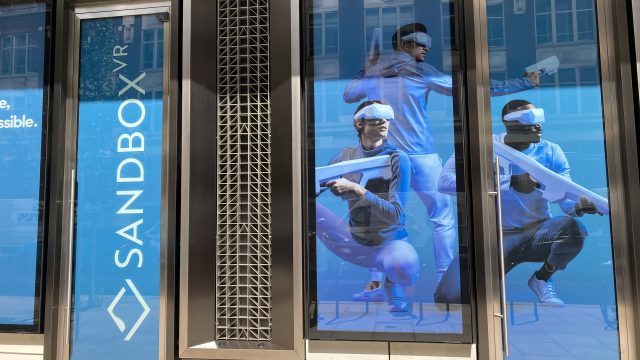 Sandbox VR knows the value of first impressions. The location is prime real estate in central London and the façade of the modern Post Building is unmissable, decked in giant posters of VR gamers with the brand's logo.
You are greeted by airport-style check-in terminals and a robot cocktail waiter to mix your drinks.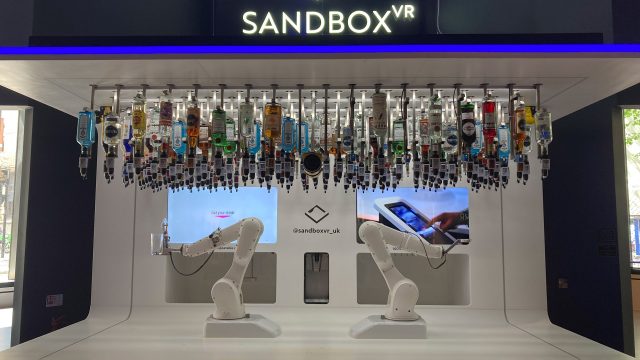 Attendants give you an iPad menu of weapons to chose from (you take the physical item into the arena), snap your photo and lead you in to a loading area. You put on a haptic vest and tie alien-looking velcro trackers that look like atoms around your wrists and ankles for full body real-time motion capture.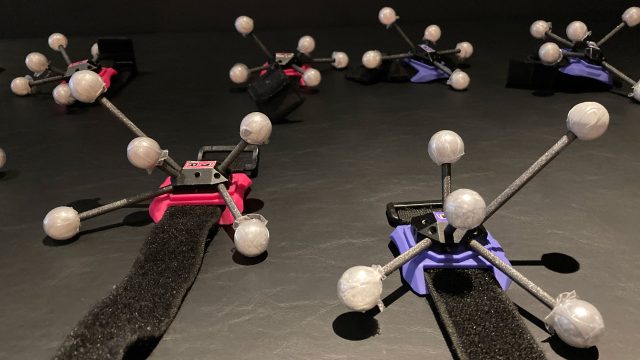 You carry a laptop in a backpack that sends movement coordinates to a server. It's quite a bit of kit, not forgetting the headset itself, and you feel the weight.
I'm playing Dead Wood Valley with Jonny. We often play multiplayer games on Quest 2 from separate houses but this is our first co-location VR experience (ie: occupying the same physical playspace).
The street is filled with zombies and vultures. It's loud. We can't hear each other over the sound of our gunfire which starts from the get-go and only relents after we defeat the final boss.
25 minutes later. We've flown on a chopper, ridden on a truck and saved each other several times from certain death (you have to physically touch the shoulder of your teammate to revive them).
At the end of the experience it's time to party on a lit up dancefloor to record one of a couple of videos ripe for social media that hot swap from you in the VR gear in the room to the virtual world.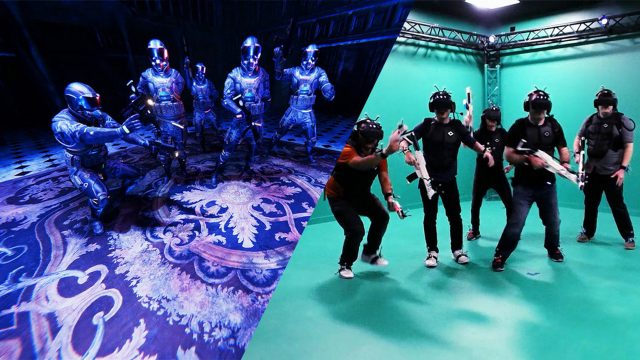 "Overall I'm a little underwhelmed," says Jonny. "The game itself looked good, sounded good, but what you actually do is quite limited."
"You are just shooting, you don't really have time to communicate, the room was quite small. It reminded me of one of those old arcade games where you'd have the gun and the foot pedal to duck down and hide behind things but upscaled into a VRscape."
"I liked the haptic suit and the feedback on the gun. When I had to touch you on the shoulder it felt disorientating."
"I guess for people who have never done VR before or in a group it's something fun to do, like going bowling."
"I'm glad I've done it, I would recommend that people have a go. It's a little overpriced but then I'm notoriously tight-fisted!"
,
Divr Labs
Moving on to Divr Labs, the genius of the setup is the multi-room layout of the single arena, allowing groups to start within minutes of each other (each following behind as the first group progresses ahead) and the illusion that you can freely walk around at will. There are actually six rooms you go through but it flows seamlessly.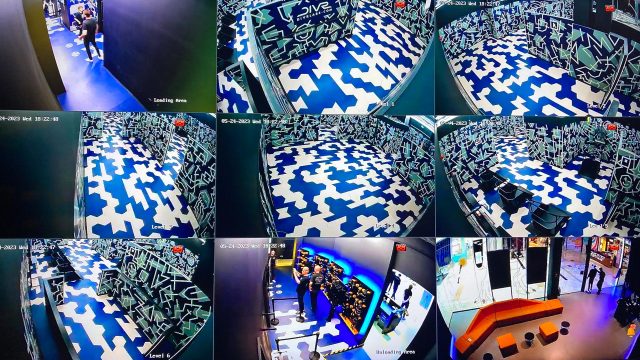 Set in an attractive welcoming room inside a shopping centre, it's all blue neon and orange sofas.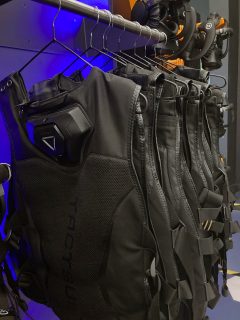 You are zipped up in a bHaptics haptic suit and there are no heavy backpacks to carry. It's very user friendly and easy to get started, even more so for my pal and technophobe Mark who struggles with controllers.
Of the two experiences we tried, The Lost Lab used a simple one-button device and the other, Meet The Dinosaurs, was played entirely through hand tracking. A third game is coming soon—the inevitable zombie shooter, Last Stand—with a 'variety of cool and deadly guns'. For now there are no shooters in sight at Divr Labs.
You can see each other the second the headset is activated with nametags on our backs and clear voicechat. One press of a big red button and we go together into The Lost Labs, an adventure into a mining facility in underground tunnels.
It's a fun escape room style puzzler with looting and an epic thrill ride. The full haptics came into effect early on with the suits electrical stimulation causing jumps and screams.
Meet The Dinosaurs was breathtaking in scope and features one of the best flying sequences you could hope for. Set 80 million years ago, it has an educational bent as you explore the jungle and collect data by touching everything around you.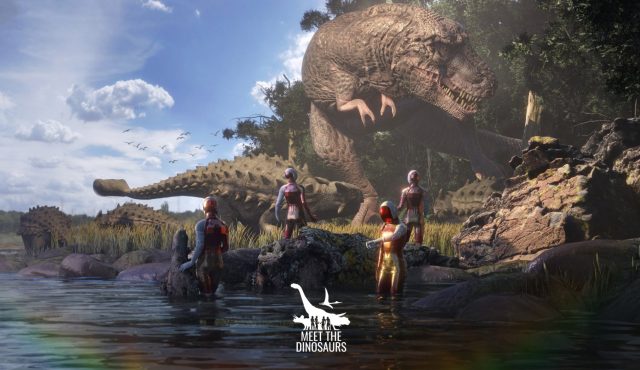 Another participant, Harley, 11, was in VR heaven. "It's a big level up from Quest 2. You can walk around which is much better, I really like it."
"The Lost Lab was good as you had to find different things like keys to open the door and you had a torch so you could look around."
Divr Labs is equipped with fans and heaters that give an effective impression of wind and heat at the appropriate moments.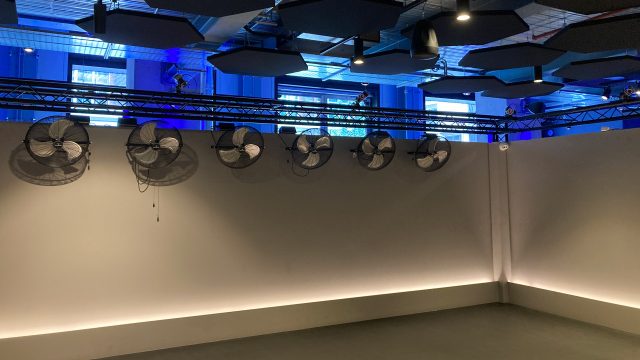 "With the dinosaurs you could feel the vibration when they were coming near and when you were flying in the glider over the volcano you could feel the heat of the lava," says Harley.
His dad Mark thought it was "an incredible experience."
"We were trying to get some DNA to recreate a missing dinosaur. With the swooping across the plains and the panoramic views, I really felt I was back in a different age. Loved it."
"I was surprised how easy it was. There are tasks that you have to fulfil, but if you don't reach those levels you still get the full experienced."
"It felt like we'd travelled miles but we didn't actually move very far. When we saw how it was done it was like pulling back the curtain on the Yellow Brick Road in The Wizard Of Oz."
DNA VR
DNA VR has three venues in London. This one was under the arches in a redeveloped area around Battersea Power Station full of shops, bars and restaurants. It was London's first VR arcade, opened in 2017, and it's showing its age.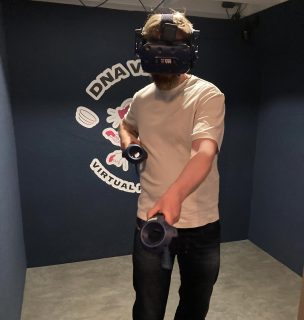 The VR arcade experiences are old and available for Quest 2 anyway (Eleven Assassin, Arizona Sunshine, Synth Riders). Then there are four escape rooms for up to six people, four premium 'free roaming' experiences and four Ubisoft-made VR escape rooms for two or four people that are wired.
We chose one of those, Beyond Medusa's Gate. Four of us played but we were each our own small box and the virtual guardian was practically an ever-present intrusion. Apart from a controller there were no haptics to enhance the experience beyond a standard consumer VR headset, like fans or a rumbling floor.
Once in the game and after correcting feedback on our mics, we had fun customising our avatars and greeting each other virtually for the first time.
Beyond Medusa's Gate is set in the re-creation of Ancient Greece from Assassin's Creed Odyssey. You have to find a way out of a vast Aegean coastal cave where the legendary ship of the Argonauts is anchored. The scale is dramatic.
The puzzles require teamwork and we could call for hints over the voicechat when we got stuck, which wasn't too often. Twelve-year-old Charlie was disappointed we didn't manage to complete the game in our allotted hour.
"It was really cool. I'm normally very good at escape rooms, I do them all the time. It was hard this one, hard. We were in pairs and I think it would have been better if we had solved them as a four together. I like the Quest 2 but you'd need to have a lot of headsets to do anything remotely similar to this."
SEE ALSO
Hands-on: CREAL's Light-field Display Brings a New Layer of Immersion to AR
Being used to a standalone headset, the tethered wire proved problematic. "I tried to do a ballet pirouette and I got all tangled. I turned around to look at something behind me and I was asked to stop spinning."
Charlie's dad Fergus was impressed. "It's the first time I've ever been together with others in VR and sharing it is amazing, it's a big difference to playing solo." Her mum Nina thought the scenery was incredible. "I thought it was more realistic than the games we do at home. It was more 'wow'. It felt nice to share the experience."
Meetspace VR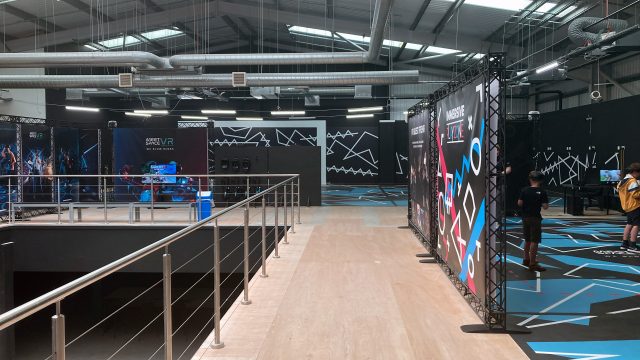 Meetspace VR has locations across several UK cities. This venue is in Stretford in the North of England, close to Manchester United's football ground in an industrial estate. It's a scrappy-looking temporary space and not easily accessible by public transport.
At the time of my visit on a weekday morning there's a single family of four playing in a smaller space, but the manager Harry says it's mostly corporate gigs during the week and the weekends are fully booked for friends and families.
The big draw is the massive 10 × 20 metre arena. Harry doesn't look like he's joking when he says he's clocked people running several kilometres in a half-hour game of their most popular title, Ubisoft's Far Cry VR.
You are armed with a heavy plastic weapon but there are no haptic suits or environmental extras. Yet sometimes it's enough just have all that space. It's also all exterior based tracking and wireless rendering, so no backpacks here.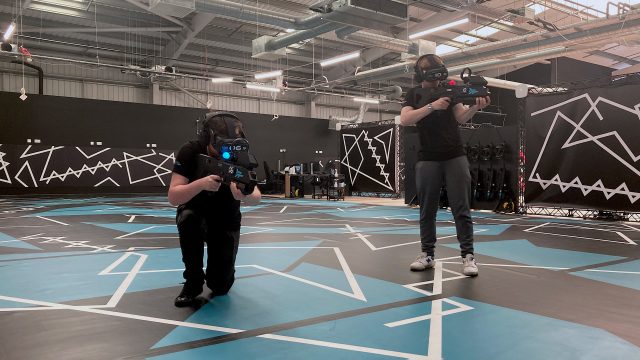 There's a short tutorial video of how to switch between and operating the assault rifle and crossbow: "Remember you still exist in the real world so stay safe! Keep your distance from other players, keep your distance from real walls, get too close and an alarm will sound and the game will pause for every player," the attendant says.
Far Cry VR is basically just going to war with your mates, with wave after wave of enemies. I'm playing with James who carries me through and proceeds to go right to the top of the leaderboards with his kills.
I'm not used to the huge free roaming space and am walking around gingerly at first because I just haven't been programmed to actually run in VR.
It's liberating to be able to physically sprint, duck, and hide behind pillars across a decent sized area. But I can't get the hang of the crossbow. "Don't worry, it's rubbish," says James.
At the other end of the scale, we play Engineerium, a controller-free adventure game for kids which feels like M.C. Escher has made a platformer to walk around. After one too many twists I start to feel quite nauseous.
We switch to the smaller 6 × 6 metre area and play Arrowsong, Cook'd Up, and Escape Quest Espionage Express.
Meetspace VR has got one of the best range of games for all ages and levels. There's all of Ubisoft's VR escape rooms and I'd loved to have played Alice in Wonderland. Next time.
Layered Reality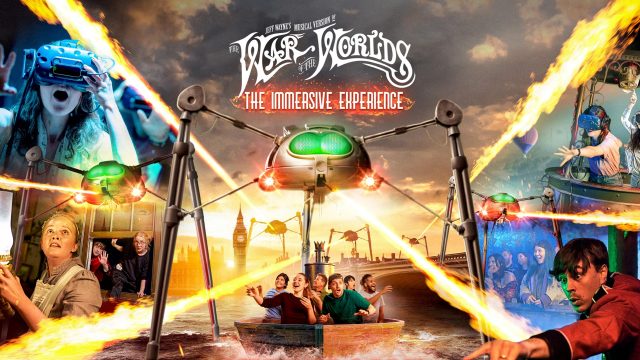 The outlier of our arena adventures, Jeff Wayne's War Of The Worlds Immersive Experience from Layered Reality isn't an out-and-out VR arcade and can't be compared like-for-like.
It's a two-hour theatrical interactive performance with live actors which incorporates VR in three of its 24 scenes. But far from being incidental they are both crucial to the story and extraordinary in their execution.
The piece is inspired the iconic best-selling double album from 1978 featuring the unmistakable narration of Richard Burton and David Essex, which in turn was based on the novel by HG Wells, published in 1898.
The chances of anything coming from Mars are a million to one, but still they come…
It's Victorian-era London and the Martians have invaded. We are led into a musky room and our first costumed actor introduces us to the story.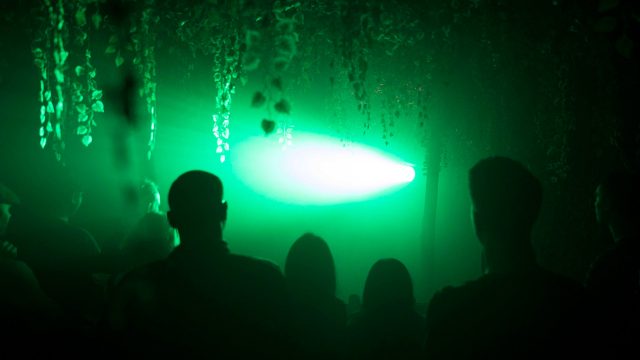 Between running through barracks and escaping down slides we meet a Welsh soldier, a parlour maid and a dying woman. It's great fun.
Through yet another door we are taken to a boat. It's time to escape London. You climb aboard with six other people in pairs and put your headsets on.
Your fellow passengers are digitally rendered as costumed characters who move in real time, with the narrators of the story at the back of the boat.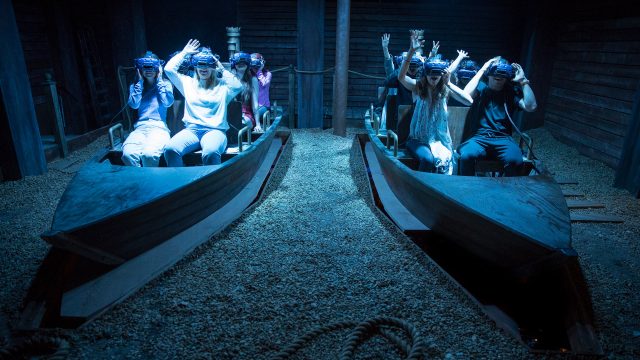 Vicky takes up the story: "You are going down the Thames with Forever Autumn playing through the headphones."
"The boat is on hydraulics, so when we are in open water it starts to rock with the waves and I think they even sprayed water on us and used fans to emulate wind. At one point the lady behind was screaming as the Martians hit us with their heat rays. They were sinking this other ship to the sounds of Thunder Child. It's all very epic, the music is building and your boat is rocking and then a big wave comes over…"
"The second VR scene you have to go into a confessional booth by yourself and they lock the door behind you. And then suddenly a curtain opens and you start to hear other people scream."
"The last scene takes places in a hot air balloon. You get into a basket in pairs and they are pumping heat down through the middle so when you fire the burners you can feel it going down your neck. You are leaving Earth and you look back and you are travelling through space. Then you land on crater in Mars. It was amazing."
– – — – –
Download the latest issue of Gibby's Guide here
---
Disclosure:  Tickets were requested for and provided by Divr, DNAR VR, Meetspace VR, and Layered Reality. Our thanks to them.