Sony revealed PSVR 2 outperformed the original PSVR in sales in the first six weeks, taking a strong early lead over the company's first-gen PlayStation headset.
An investor relations presentation delivered by Sony Interactive Entertainment chief Jim Ryan includes some new information detailing PSVR 2 units sales relative to the original PSVR launched in October 2016.
According to a chart in Ryan's presentation, Sony's latest headset has sold 8% more than the original in the first six weeks, ostensibly spanning from its February 22nd, 2023 launch to April 5th.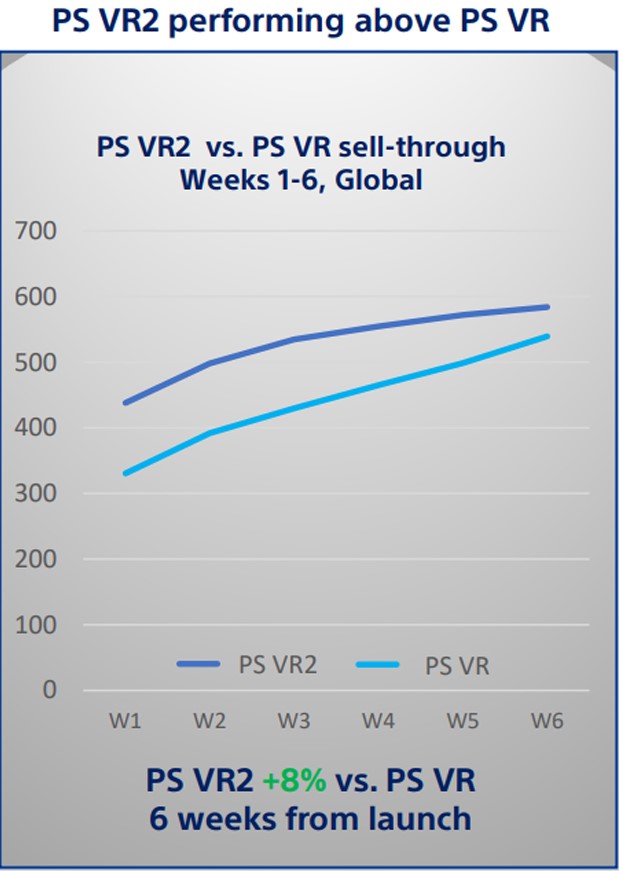 The graph's y-axis is unlabeled, although it's likely those numbers are in the thousands of units, which would mean PSVR 2 sold around 450,000 units in its first week, trailing up to just under 600,000 at the six-week mark.
PSVR 2's adoption curve is notably flatter than the original PSVR, which started at just north of 300,000 units in its first week, ending up at around 550,000 units by week six. When Sony last released sales figures in 2020, the original PSVR had sold around 5 million lifetime units. Notably, PSVR reached its first million in just under its five months.
SEE ALSO
Take a Trip Aboard the ISS in Latest VR Film From Lauded Immersive Filmmakers Felix & Paul
PSVR 2's game library consists of a few strong anchor titles, such as Horizon Call of the Mountain, Resident Evil Village, and Gran Turismo 7 while offering an array of upgraded PSVR content and newly ported Quest titles. Upcoming titles include Ghostbusters VR, Beat Saber, Crossfire: Sierra Squad, Resident Evil 4, Synapse, The Foglands, Green Hell VR, and Behemoth.
To keep PSVR 2's unit sales above the original, the company undoubtably needs to focus on widening its content offering in the coming months. The company is hosting a PlayStation gaming showcase later today which we hope will reveal a little more about the company's near-term content strategy for PSVR 2.
,