It's exceedingly rare to see a VR software startup transition to making hardware, let alone decent hardware. But that's exactly what Bigscreen—creators of the long-running social VR theater app of the same name—has done with its upcoming Beyond headset.
Bigscreen has clearly targeted PC VR enthusiasts who are willing to pay for the best hardware they can get their hands on. And with major players like Meta and HTC focusing heavily on standalone headsets, Bigscreen Beyond could prove to be the best option they'll find any time soon.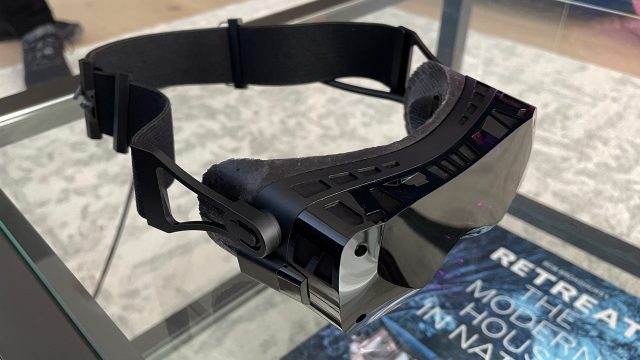 The company has set out to make a headset that's not just better than what's out there, but one that's much smaller too. And while it remains to be seen if the headset will hit all the right notes, my initial hands-on shows plainly the company knows what it's doing when it comes to building a VR headset.
Bigscreen Beyond Specs
Resolution
2,560 × 2,560 (6.5MP) per-eye
microOLED (2x, RGB stripe)
Pixels Per-degree (claimed)
28
Refresh Rate
75Hz, 90Hz
Lenses
Tri-element pancake
Field-of-view (claimed)
93°H × 90°V
Optical Adjustments
IPD (fixed, customized per customer)
eye-relief (fixed, customized per facepad)
IPD Adjustment Range
58–72mm (fixed, single IPD value per device)
Connectors
DisplayPort 1.4, USB 3.0 (2x)
Accessory Ports
USB-C (1x)
Cable Length
5m
Tracking
SteamVR Tracking 1.0 or 2.0 (external beacons)
On-board Cameras
None
Input
SteamVR Tracking controllers
On-board Audio
None
Optional Audio
Audio Strap accessory, USB-C audio output
Microphone
Yes (2x)
Pass-through view
No
Weight
170–185g
MSRP
$1,000
MSRP (with tracking & controllers)
$1,580
Custom-made
Bigscreen is building something unique, quite literally—every Beyond headset comes with a custom-made facepad. And this isn't a 'choose one of three options' situation, Bigscreen has a sleek app that walks buyers through the process of capturing a 3D scan of their face so the company can create a completely unique facepad that conforms to each specific customer.
And it really makes a difference. The first thing that Bigscreen CEO Darshan Shankar showed me during a demo of the Beyond headset was the difference between my personal facepad (which the company created for me prior to our meetup) and someone else's facepad. The difference was instantly obvious; where mine fit against my face practically like two connected puzzle-pieces, the other facepad awkwardly disagreed with my face in various places. While I've recognized for a long time that different facial topology from person-to-person is a real consideration for VR headsets, this made me appreciate even more how significant the differences can be.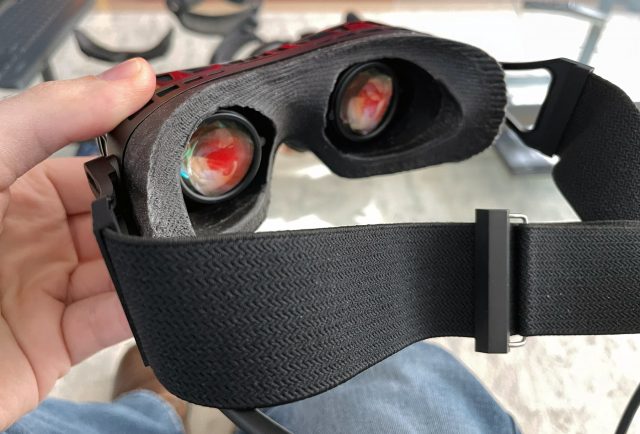 Shankar says the custom-fit facepad is an essential part of making such a small headset. It ensures not only that the headset is as comfortable as it can be, but also the user's eyes are exactly where they're supposed to be with regard to the lenses. For a headset like Beyond, which uses high magnification pancake optics with a small sweet spot, this is especially important. And, as Shankar convincingly demonstrated by shining a flashlight all around the headset while I was wearing it, the custom-fit facepad means absolutely no external light can be seen from inside.
And the custom facepad isn't the only way each headset is dialed in for each specific customer; instead of wasting weight and space with the mechanics for an IPD adjustment, the headset ships with one of 15 fixed IPD distances, ranging from 58–72mm. The company selects the IPD based on the same face scan that allows them to make the custom facepad. And given the size of the Beyond headset, there's no way that glasses will fit inside; luckily the company will also sell magnetically attached prescription inserts for those who need them, up to −10 diopter.
Diving In
With my custom facepad easily snapped onto the headset with magnets, it was time to dive into VR.
The baseline version of the $1,000 Bigscreen Beyond headset has a simple soft strap, which I threw over the back of my head and tightened to taste. I felt I had to wear the strap very high on the back of my head for a good hold; Shankar says an optional top-strap will be available, which ought to allow me to wear the rear strap in a lower position.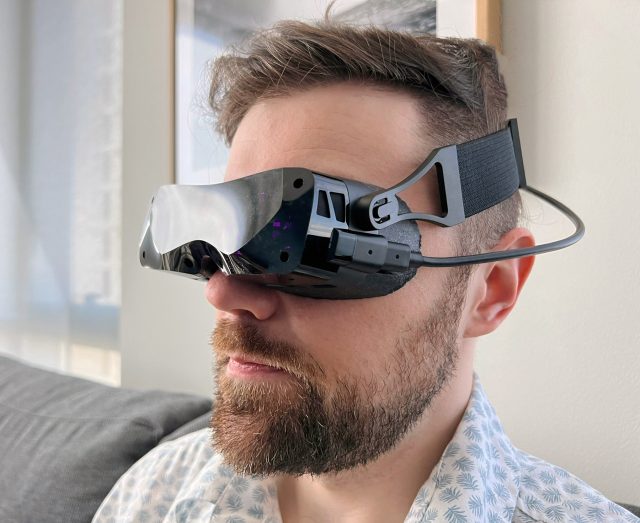 As I put on the headset I found myself sitting in a dark Bigscreen theater environment, and the very first thing I noticed was the stellar darks and rich colors that are thanks to the headset's OLED displays. The second thing I noticed was there was no sound! That's because the baseline version of the headset doesn't have on-board audio, so I still had to put on a pair of headphones after the headset was donned.
While the baseline headset lacks on-board audio, Bigscreen is offering a $100 'Audio Strap', which is a rigid headstrap with built-in speakers. As someone who really values rigid straps and on-board audio, I'm glad to see this as an option—for me it would be the obvious choice. Unfortunately the company wasn't ready to demo the Audio Strap.
Shankar toured me around a handful of VR environments that showed off the headset's 2,560 × 2,560 (6.5MP) per-eye displays, which offered a level of clarity similar to that of Varjo's $2,000 Aero headset, but with a smaller notably field-of-view (Bigscreen claims 90°H × 93°V).
On many current-gen headsets like Quest 2 you can't quite see the individual lines of the screen-door effect, but it's still clear that it's there in aggregate. While the Beyond headset isn't 'retina resolution' there's essentially no evidence of any screen-door effect. Everything looks really sharp. This was best demonstrated when I ran around in Half-Life: Alyx and the game felt like it had instantly upgraded graphics compared to a headset like Valve's Index.
SEE ALSO
VR's Most Popular Battle Royale is Getting Sandbox Creation Tools This Week
There is, however, some persistence blurring and glare. Shankar openly demonstrated how the brightness of the display directly relates to the level of persistence. While there's some noticeable persistence at the default brightness, when overdriving the display's brightness the persistence becomes entirely unbearable. The reverse is true; turning the brightness down below the default cuts the persistence down noticeably. While it would be nice if the default brightness had less persistence, at least users will be able to trade brightness for lower persistence based on their specific preference.
,
Dialing In
While the center of Beyond's lenses look impressively sharp, the sweet spot is quite small, which means you can start to see reduced visual quality and distortion pretty quickly as the image deviates from the center. While the headset's overall field-of-view feels just big enough in theory, the small sweet spot gives a kind of 'tunnel' effect, making the FoV feel smaller than it is.
However, I got curious about what the image would look like if I got my eyes closer to the lenses. So I took off the facepad and moved the lenses as close to my eyes as I could. Though I can clearly see the edges of the display at that distance, I also got a noticeably larger FoV and larger sweet spot, making the distortion falloff toward the edges of the lens less glaring. As I compared the difference in visuals with the facepad on (which moves my eyes a little further from the lenses) and off, I got the sense that I wouldn't mind seeing the edges of the headset's display if it meant I got the added FoV and larger sweet spot.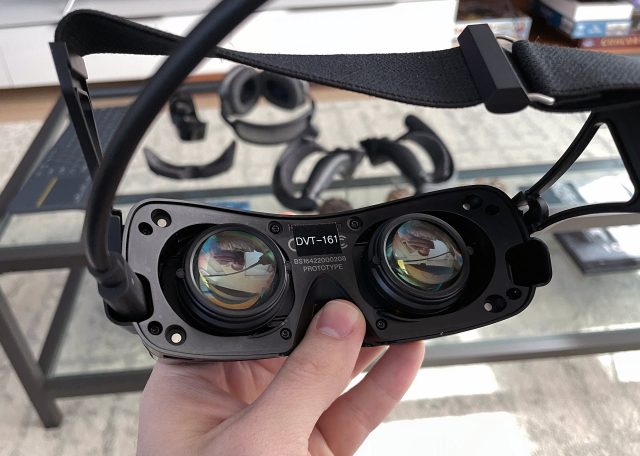 Curiously, I also got the sense the headset might actually be more comfortable for me this way. While the facepad certainly feels perfectly formed to my face, I didn't quite like the pressure it put so close around my eyes. On the other hand, without the facepad the headset essentially just rested on my nose and felt like it might be more comfortable for me that way; but truly understanding a headset's long term-comfort isn't something that you can do in 20 minutes.
I'm looking forward to spending more time with Beyond, and experimenting with the facepad, including seeing if a simple nosepad (instead of a full facepad) gives me a superior long-term experience. Shankar says the company will work with customers to dial in their custom facepad if they aren't happy with it, and perhaps adjustming mine will achieve what I want (slightly larger FOV and sweet spot) without needing to ditch the facepad entirely.
SEE ALSO
Shiftall's Slim & Light PC VR Headset MeganeX to Launch Early 2023, Priced at $1,700
As for tracking, the tiny Beyond headset has a full suite of SteamVR Tracking sensors, and in my short demo I found the tracking worked just as well as one would hope.
Next-gen Form-factor
Aside from what I saw in the headset, it was clear the device itself is very professionally designed and built, including a sleek semi-transparent shell. Its size is an order of magnitude smaller and lighter than contemporary PC VR headsets (just 170g compared to something like Index which clocks in at 807g).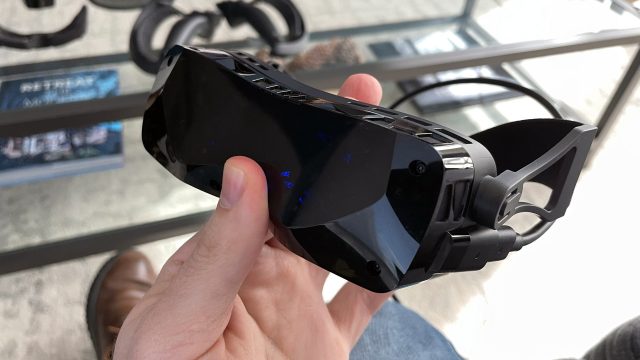 Shankar says the emphasis on making Beyond as compact and lightweight as possible was driven entirely by a desire to build a headset that fits the use-case of the company's customers—namely people spending long stretches of time in VR doing things like watching movies and socializing—like they do in the company's Bigscreen social VR theater app. And that's the same reason the company made sure it put a top-notch microphone array in the headset.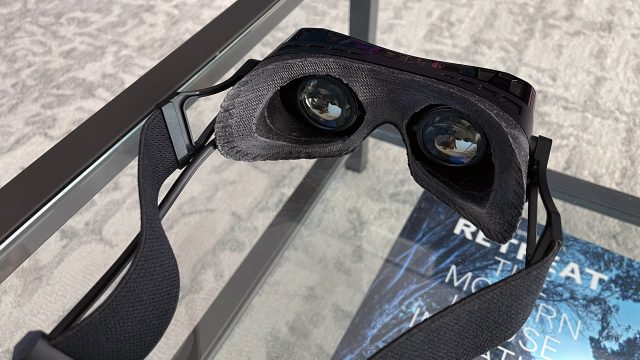 At $1,000 for the headset alone (SteamVR Tracking base stations and controllers sold separately) there's no doubt that Beyond is targeting a base of hardcore PC VR users. Interestingly, it's a similar strategy that Pimax is taking, though while Bigscreen is aiming for light and compact, Pimax is aiming for an ultra-wide field-of-view and lots of modularity. Despite the big players pivoting toward standalone headsets, it seems that enthusiast PC VR users will continue to see competition among headset makers.
– – — – –
Bigscreen Beyond is due to start shipping in Q3 2023 and the company recently began accepting pre-orders. You can expect a full review of the final production version of the headset as soon as we can get our hands on it.[/vc_column_text][/vc_column][/vc_row]